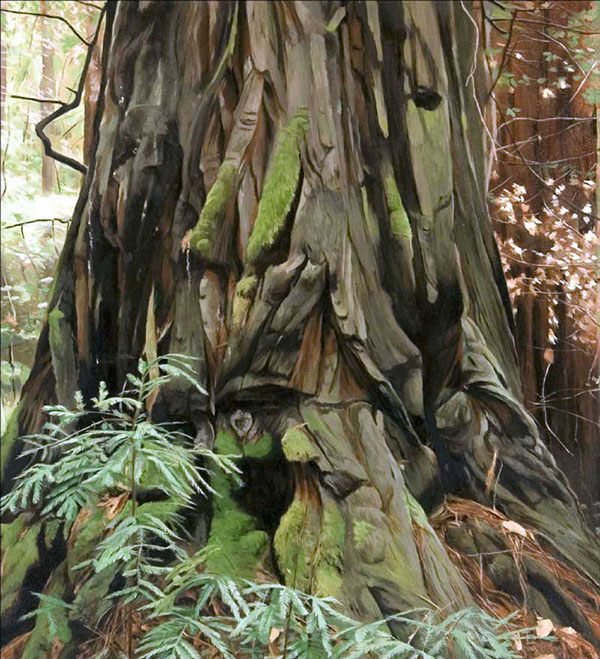 Sequoia, oil on canvas, 30" x 36"
Bio:
Tim grew up in Toronto and attended the Ontario College of Art (now OCAD University). There he studied drawing, painting, illustration, as well as other subjects such as film, creative writing and theatre arts.
He took part in the Florence Off-Campus Studies Program in 1980-1981 and graduated in 1984. He has spent many years as a painter of landscapes, and of animals, wildlife and of other related subjects.
As well as being a painter he is also a cartoonist, caricaturist and illustrator, and has been working in the arts since the age of 19.
Artist Statement:
Previously I have painted the Ontario landscape, such as the Georgian Bay region. As well, a series of waterscapes with lily pads. These are studies of the waters surface, its shoreline.
Ontario has a wealth of beautiful landsapes. Over the past year I have travelled and painted Killarney Provincial Park, with it's gleaming white rocks and stands of white pine. The La Cloche Mountains in Killarney are the oldest mountains in North America.
Earlier during the summer of 2016 I spent some time in Georgian Bay north of Parry Sound, outside of Pointe Au Baril. I found an uninhabited Island named Shawanaga Island, and came away inspired by it's rough wilderness.
I also enjoy painting wildlife and animals as well as large scale landscape paintings. A few years ago I went to Central America, partly to get away from the cold, but also to check out some of the exotic wildlife there. Another favourite ongoing project is a series of paintings of cows and other domesticated animals, such as sheep.
Tim Hough